Redemption games are among the most exciting and most profitable of any other in America's game rooms! Guests can earn countless prizes while they try their skills on these games.
Here are a few of our favorites:
Big Bass Wheel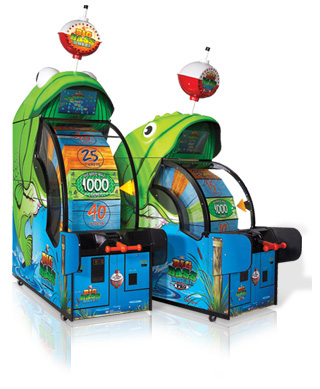 Reel in the Fun! Players step up and pull the handle to spin the big wheel. When the wheel stops, players are rewarded with tickets. For an even bigger catch, a Big Bass Bonus has been added where players can win up to 1000 tickets for a perfect spin!
This game of skill serves as a true attraction piece for any game room, but if space is an issue choose the Pro series which is 30% smaller in size. Big Bass is equipped with funny fishing bloopers and a captivating sound package to offer the entire family a great value in entertainment. Dual ticket dispensers, high capacity ticket trays, and an easy-to-navigate operator menu are all standard.






Monster Drop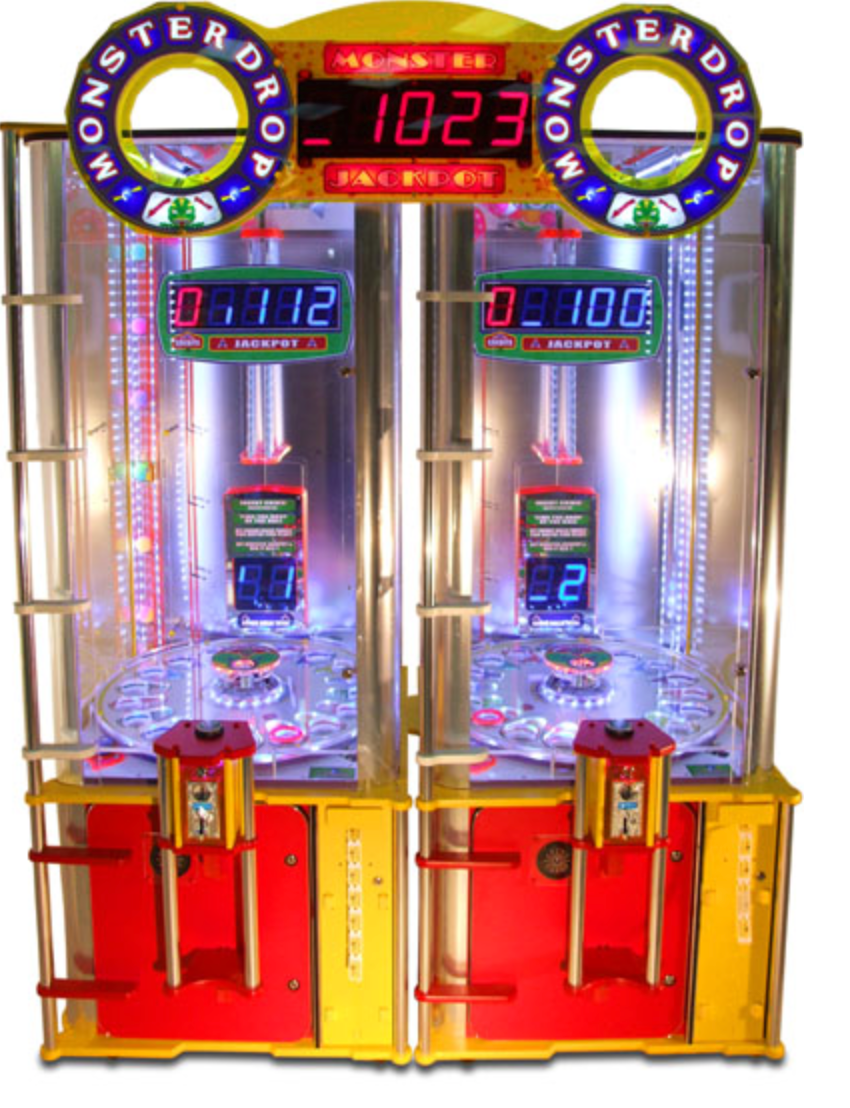 Time the drop of the high energy ball so it falls through the JACKPOT, the MYSTERY VALUE, or TICKET WIN VALUES…
Even if you miss, the ball bounces and careens around before dropping in a hole, so you WIN EVERY TIME!
If a ball drops in an ADD BONUS BALL hole, balls are reserved until, if you make it in a DROP BONUS BALLS hole, it's a MULTI-PLAY extravaganza!
Bounce a ball up onto the platform and into the MONSTER JACKPOT hole and win a huge cumulative JACKPOT!
Available as single player or 2 player (as seen)!






Deal or No Deal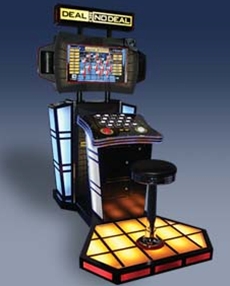 Deal or No Deal is an officially licensed game comes complete with all the authentic nuances of the TV game show – making each player feel as if they are really part of the game. The game play is extremely similar to the show… choose your case in hopes of having the highest ticket value on the board. You then eliminate cases in each round as prompted until you receive the OFFER from the BANKER. You either take the deal or hit the NO DEAL to continue play in hopes that you have best deal in your case. Your nerves will get the best of you guaranteed! Not to mention, there is always a crowd around the game cheering for you every step of the way. Avoid making your customers wait in line to play this game… Double up on units!