Valley Pool Tables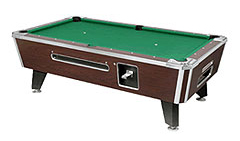 (7&8 Ft available)
Unlike many other pool tables, Valley tables are made with one-piece, precision ground slate for flatness and true ball roll. Valley surpasses competitive tables with additional features including: nylon-wool blend billiard cloth for long wear and smooth ball action; double reinforced fiberglass legs for absolute rigidity; heavy-duty internal support systems for durability; an exclusive one-piece polyethylene ball-return system for problem-free pool. Without question Valley delivers high-performance, heavy-duty pool tables that can last a lifetime. For everything from high traffic locations to private home use, nothing beats the time tested dependability and playability of a Valley table.
DYNAMO Pool Tables

(7&8 Ft Available)
Dynamo tables are single slate and made with high quality plywood construction; all components are thoroughly secured and wear points are covered with metal or plastic for a longer life span. This table is sure to enhance the décor in any location while increasing profits. The competitively priced and high quality tables are just what locations and operators have been asking for in a pool table.
All pool tables are thoroughly inspected for defects and re-covered. Trained professionals install, level, and ensure that tables are functioning at 100% at your establishment.